TONI OSBORNE
Senior Yoga Teacher (Postnatal)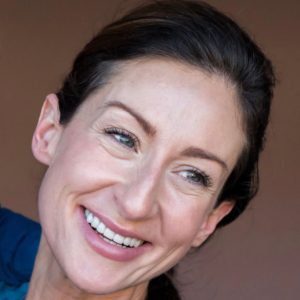 Toni Osborne is a Postnatal Yoga teacher and part of the Yoga Mama teacher training team. She originally trained in dance and movement, earning a scholarship with the Italia Conti Academy in 1987. Since then, she has not stopped exploring new ways to enjoying movement.
In 2003, while working as a Personal Trainer and Sports Massage Therapist, Toni started practicing yoga. On discovering how yoga techniques helped to balance the nervous system and ease anxiety, she decided to train to become a yoga teacher. She first qualified to teach yoga through Yogahaven in 2012. Since then, has continued to broaden her fields of expertise.
Toni initially studied Pregnancy Yoga with Uma Dinsmore-Tuli and then, in 2015, with Yoga Mama. She has also studied Yoga for Menstrual Health and Fertility, Yoga and Mindfulness for Children and – most recently – Pregnancy and Postpartum Corrective Exercise. In addition to this, Toni is also a guest tutor on the Yogarise and Kindred Yoga teacher training programmes.
With nearly two decades of experience, Toni offers sequences that allow students to experiment and enjoy how their unique bodies move, reflecting her warm, playful spirit. She believes we are all students of yoga. Regardless of the number of years we have been teaching or practising, there is always something new to discover about yourself. She also loves the wonderful ability yoga has of enriching daily activities, both on and off the mat.
Since giving birth to her son, Toni has been incredibly passionate about providing informative and supportive fertility, vinyasa pregnancy and postnatal yoga classes. She is a Pregnancy and Postnatal corrective exercise specialist and also teaches Vinyasa, Pregnancy and Postnatal Yoga from her home studio in Forest Hill, South East London.